How Appropriate!
Ice and Water
When we picked this image for our holiday card, we had no idea how appropriate it would be. Lori and I had travelled to Brockville on Thursday to spend a couple of days with my mom. We drove through the ice storm to get home on Saturday Dec. 21st. The lights flickered a few times just before we went to bed. The power went off at 2 am. That's when all hell broke loose. The tree in our front yard started to splinter. A big branch fell around 4 am. We jumped out of bed. It just missed the back of the van but took down our power line and laid it on top of the van. Another branch crashed to the front of the van. It was scary.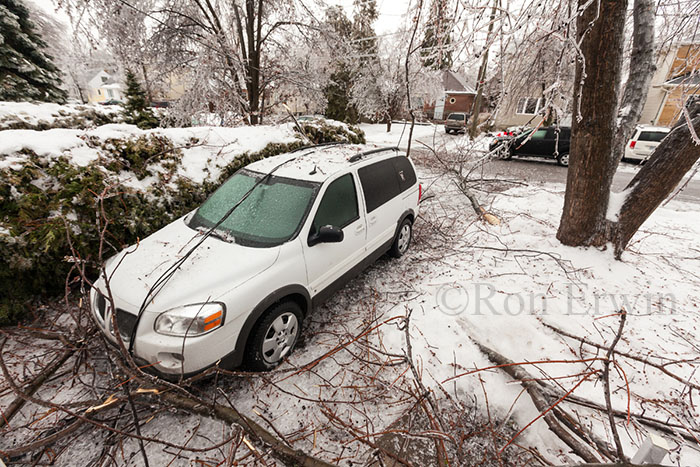 Ice Storm Fallout
The rain was still falling. Our neighbourhood looked like a war zone. We could see transformers sparking as bright as lightning all around us. The power came back on for about 5 minutes around 5 am. Our power line was still live. It was lying across the van and went up to the pole about half way across the street. When the power finally went out for good we watched the temperature in the house drop and drop. We could not get out our front door for the tree branches. In the morning, I went out the back door. The power stack above the meter was smashed to pieces. Lori and I are used to cold temperatures and living off the grid. We could charge our cell phone and cook food outdoors. We also had lots of flashlights, batteries and candles. My biggest worry was getting killed by falling ice and trees. I also worried about our pipes freezing. We called an electrical contractor. He came right away to assess and later that evening came back with a bucket truck to temporarily reconnect our power line. They came back the next day to repair our conduit above the meter so we were ready for the power when it did come on. They even cleared the downed tree behind the van so we were able to get out and get more supplies.
It would be dark by 4:30. We read books under blankets on the couch. With half a dozen candles burning we kept the temperature around 45 degrees F. We were more comfortable once we went to bed. I started writing limericks in the night. We were soon giggling. Lori joined in and we were laughing so hard we were crying. You make the best of it. It's all you can do. And no, I won't repeat the limericks. They were too dirty!
I looked at generators. There was one at Canadian Tire but it was not big enough to run much. I decided to get RV Antifreeze and winterize the pipes.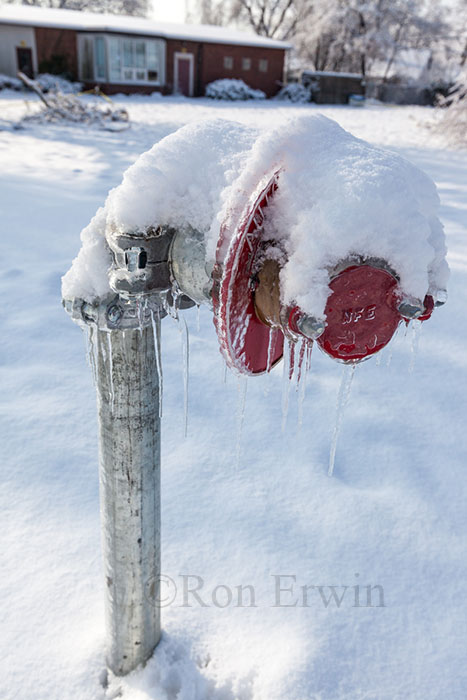 Ice & Snow
After 3 days in the cold we moved to Lori's sister's place. We had a warm bed and great company to keep our spirits up as we watched the news and waited. Thank you Marta and Joe for your hospitality! You made a difficult time fun and enjoyable. We came back to check on the house everyday. It got down to 34 degrees on the main floor and 40 in the basement. It never did freeze.
Friday morning, we got a text from our neighbour that the power was back on. We drove home and checked everything. To our relief, everything was fine. We will need to do some cleanup in the yard but all in all, it could have been much worse.
Happy New Year!
Labels: ice storm, outage, power lines, Scarborough, Toronto, winter