The Canary: Almost Gone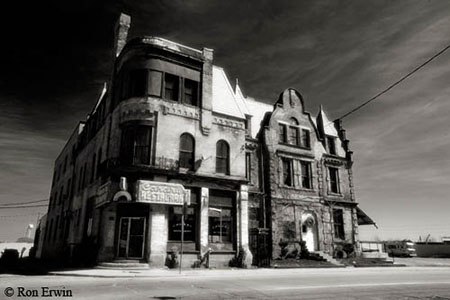 I have been driving by the old Canary Restaurant in Toronto's Distillery District for years. I've also dropped in and had coffee with a friend, or driven by when they were using it as a movie set and I have recognized the place in several films and TV shows.
The Canary closed down in
April 2007
. I'm not sure of its fate.
We were heading home on Sunday and decided to stop and take a few photographs. I shot with a Canon 1Ds Mk III and a 16-35mm lens. Later I converted them to Black and White and added a diffused glow in Photoshop.
These old buildings hold so much character and texture.
(The 2 images shown above and to the right are the same image - just adjusted differently in Photoshop. Which do you prefer?)
I must get out and do more of this around town. So much to do and so little time!
Labels: buildings, Canary Restaurant, digital imaging, Distillery District, historic, nature photography, Photoshop, Toronto