Gargantua and Other Dreams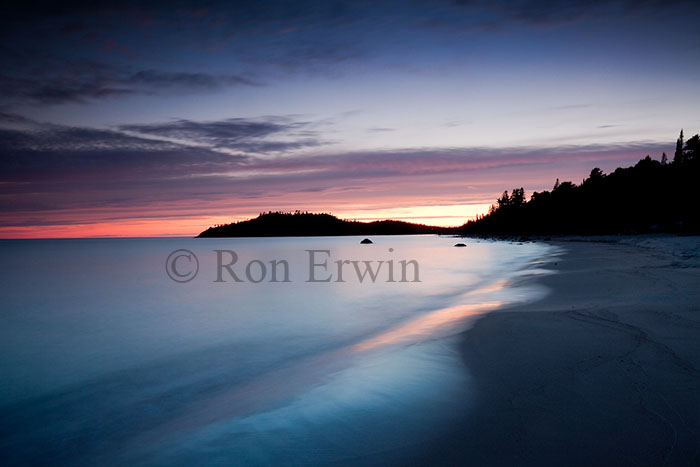 Everyday began the same way. Our tent was at the edge of Gargantua Beach on Lake Superior's northern shore. Thick clouds had rolled in overnight. It looked like a heavy rainstorm was on its way. At 6 a.m. we would get up to relieve our swollen bladders and go back to bed. By 9 a.m. some of the clouds had started to clear. It looked like it could go either way. I would get out and walk naked to the edge of the water. No need to cover up, our closest neighbours were way down the beach and they didn't usually get up till 11 a.m. anyway. I would go for a swim and stand naked in the sun to warm myself up. The constant sound of the waves hitting the beach was hypnotizing. Every now and then, there would be a loud bang, like someone dropping a big log on the ground. But it was just the way the water would slap the beach sometimes. I would hear voices too, but there was no one there. Even when there was little wind, the waves continued to roll in, probably from a storm on the south side of the lake. By 10 a.m. the clouds would clear along with our ambition to go anywhere. We would swim and laze in the sun reading. The day would pass at its own pace and we would be in a trance looking at the water, waves, sand and rocks. Dinner and wine, often while sitting on the beach, followed by a swim followed by a game of cards is how we would spend the last bit of light. We would then gather our books and head to bed. The sound of the waves blocked every other sound. Sleep came easy. Deep, undisturbed sleep is such an unusual occurrence for me these days. My dreams were lucid and in Technicolor. It was as if I watched a movie every night - as if I was slipped a mild sedative along with a hallucinogenic substance. What were the men in the New York Subway trying to tell me in sign language? Why was the security guard drunk at 3 am and where was he taking me? Why didn't the bullets hurt or even make a dent? Dreams. Wonderful Technicolor dreams. I would awaken the next morning to the sound of the waves and repeat the whole thing over again. It was simply intoxicating!
Superior has not revealed herself fully to me yet. Maybe she never will. Still I continue to hear her call.

Labels: camping, dreams, Gargantua, Lake Superior, Michipicoten