Manic Depressive
Travelling like this is tough both physically and mentally. Long hours of driving followed by hours of looking and photographing whatever we can find. There are times when I get frustrated. As a nature photographer you are at the mercy of the weather. I found this location in Peter Lougheed Provincial Park in the Kananaskis area of Alberta. I knew it was a great spot. I just needed some light. I was tired. We waited for quite awhile. There was nothing but clouds and dull light. We left and looked for bears. We didn't find anything. As we drove south, the light hit the mountain and I knew I had missed it. I felt that sinking feeling. When you work this hard and miss it, it can play on your mind. I was about to call it a night. Lori quietly said, "We can go back and wait if you want". And that's just what we did. It started to rain but there was just a sliver of light. And then, it hit. Glorious light, rainbows and calm water.

Peter Lougheed Provincial Park, AB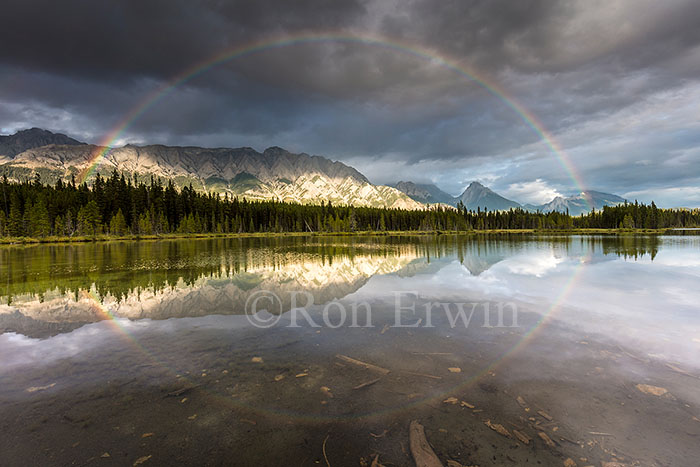 Rainbow in Peter Lougheed Provincial Park, AB
As I shot at this small lake, we could hear Wolves howling close by.
I needed this - just a shot of energy at the right time. We often hit a wall three weeks into a trip. It is sometimes tempting to turn the van around and drive to the comforts of home. Hopefully this will get us over the hump.
Kananaskis is an area south of Banff. It seems a little wilder, a little more remote than the National Parks to the north. It is worth checking out if you get a chance.
Grizzly Bear
Labels: Alberta, Grizzly Bear, Peter Lougheed Provincial Park, Rainbows, Rocky Mountains, Spillway Lake