The Seal River Heritage Lodge (Adventure Continues Day 4)
I walked up to the Calm Air departure desk in Winnipeg blurry eyed and half asleep. The man said, "Pick a bag."
"Excuse me?" I asked.
"Pick a priority bag. The flight is full and we will probably have to bump one bag."
Hmmm, camera bag, or clothes and tripod? I picked the camera bag. I would rather freeze than go without my cameras! I asked if there was Valet service for my camera bag. No was the answer. That meant I had to check my camera bag with my 500mm lens among other very expensive things. This was a bit nerve racking. I was relieved to find out that Scott and John got the same story. Robert however walked up with his camera bag with a Valet tag attached. "How did you get that?" I asked.
He smiled and said, "You have to be charming and good looking to get this kind of service." I mumbled that all the mirrors in his house must be broken…
We got to the departure lounge without too much trouble, had a bite to eat and waited to board the plane. It was still dark when we walked out onto the tarmac to board the very small twin prop plane to Churchill. We all had our huge parkas on. It was a little uncomfortable being stuffed into our seats with so much camera equipment in our pockets (this was to reduce the weight of our camera bags so we did not go over the limit). It was a short flight with a gas stop in Thompson and then on to Churchill.
The plane landed and we walked into the Airport. Rose from Churchill Wild met us there to help guide us onto the plane to the
Seal River Heritage Lodge
. She gave us the bad news about our bags. Several of us would be without extra clothes and tripods. Some people started to get upset. I just smiled and said, "Hey it's just part of the adventure. We will figure out some way of getting some images." They assured us that our bags would be at the lodge by sunrise tomorrow.
Rose asked who wanted to go first. Nobody said anything so I said "Pick Me!" We walked out to a Turbo Beaver.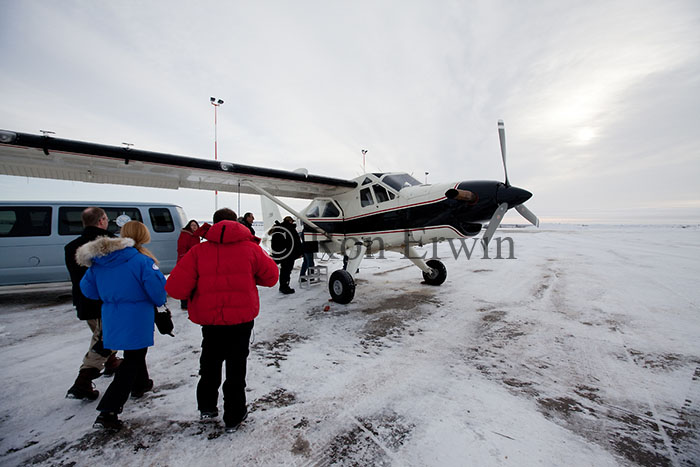 They loaded our bags and Rose asked if I would like to ride up front with the pilot. "You bet!" I already had my camera out with a 16 – 35mm lens on. I made the climb up into the front and did up the seat belt. Matt, our young bush pilot jumped in grinning ear to ear. It was a bit chilly and our breath coated the window. He quickly fired up the Beaver and pulled out onto the runway.
The plane was in the air in a very short distance. We flew low heading north.
We saw lots of moose along the way. Then the trees thinned out.
Matt guided the plane down to the gravel/snow-covered runway. We bounced and slid a bit sideways and then nicely pulled up to the far end of the runway. We were met by two men with 12 gauge shotguns and an ATV with a trailer. Terry and Andy would be our constant companions whenever we ventured outside the compound for the duration of our stay here.
I had stuffed my 70-200 into my pocket before we got into the plane so I switched lenses before we walked to the lodge.
It was just a 5-minute walk from the runway. We almost made it to the lodge when we found 2 bears lurking behind the generator shed. I was photographing bears even before we got to the lodge. A very good omen indeed!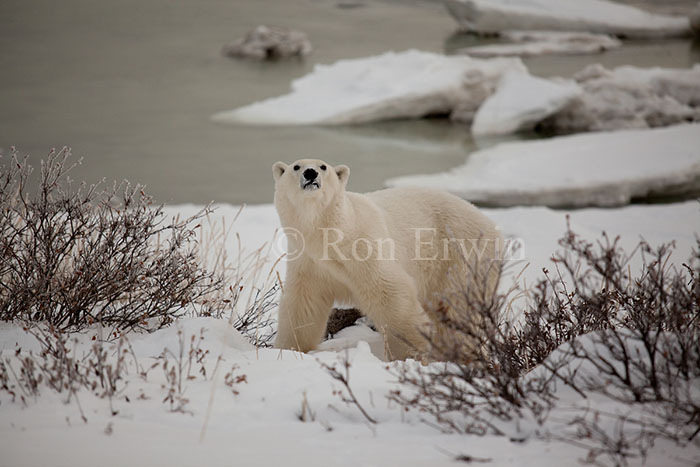 After we shot images of polar bears for about 20 minutes, we walked into the compound and then made our way into the lodge. We were greeted by Mike and Jeanne, the owners of the lodge and Churchill Wild. Mike asked how the trip in was. I explained my dilemma of having no tripod to work with. He said, "I have a couple of tripods here, let me get one for you." I had my ball head in my camera bag so I was ecstatic! I quickly set up and went out to the compound. There were a couple of bears within range. The rest of the group soon joined me and we spent the rest of the afternoon photographing bears up close and personal.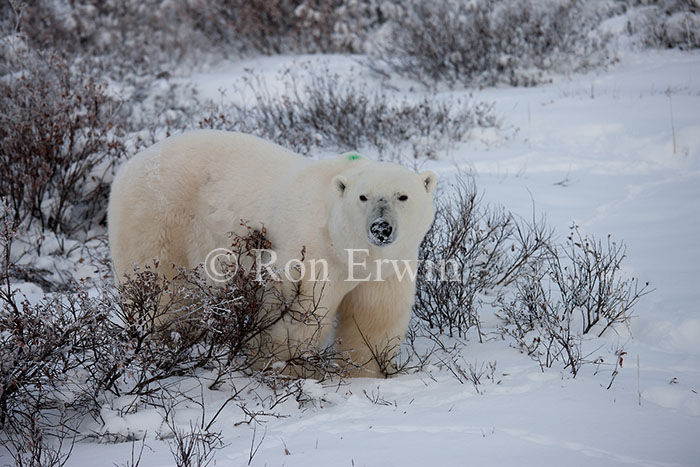 Once the light was gone, we went inside to do backups. We enjoy a glass of wine and hors d'oeuvres. This is a wonderful place! We each introduce ourselves and have an orientation session. They talk about safety for the bears and us and then we head off to dinner. The food and the company are wonderful! After a long day, we head to bed early.
At around 11p.m. I'm awakened by a knock at my door, "Northern Lights!" I crawl out of bed and get dressed. We head out and Scott and I share a tripod and shoot the lights for about an hour.
It was a nice show and a great end to a great day!
More to come…
Labels: adventure, airplanes, Arctic, Churchill, Manitoba, North, northern lights, polar bears, Seal River, winter