A Dream Come True: (Adventure Continues Day 5 –7)
We get up at 6:30am even though sunrise isn't until after 9. So we have a leisurely pace in the morning. Breakfast is at 7am. The food is so good! The staff here are all friendly and very good at what they do. They are always smiling! We chat it up over the great food and thoughts of what will come of the day. A polar bear sits just outside the dining room window. After breakfast, Mike informs us that our bags will leave Churchill at first light. That's a relief. It will be nice to have a change of clothes, ski pants, and of course my tripod!
We put on our parkas and go outside. An Arctic fox walks by. Unfortunately, it's too dark for a good photo.
Arctic Fox in dim light
The light comes up a bit more and I get a good shot of a Ptarmigan.
Bears are walking by and the light is starting to get nice.
So much is happening so fast and all at once. I'm taking pictures constantly. It's surreal to be this close to polar bears. So far we have been working within the fenced compound. The bears come close. Really close. It feels like we are zoo animals and they are coming up to look at us. They are so beautiful but you know they are deadly. The compound is large and has 2 platforms to shoot images from.
Most of the fence is "Buffalo" fence with large enough openings to line up our camera lenses and shoot through. But we need to be very aware of where the bears are. They can move very fast and the fence openings are large enough for them to get their head or paws through.
George Duck from Thompson, Manitoba is the night watchman.
In addition to guarding us at night, George hauls water for lodge use during the day. One time when George headed out for water I heard shotgun fire. I asked Terry what was up. He said that George is out alone. When you are alone out there the bears will stalk you. George was firing his shotgun in the air to scare off the bears. I tried to use a lot less water after that.
Our bags finally arrived with my tripod and the rest of my clothes!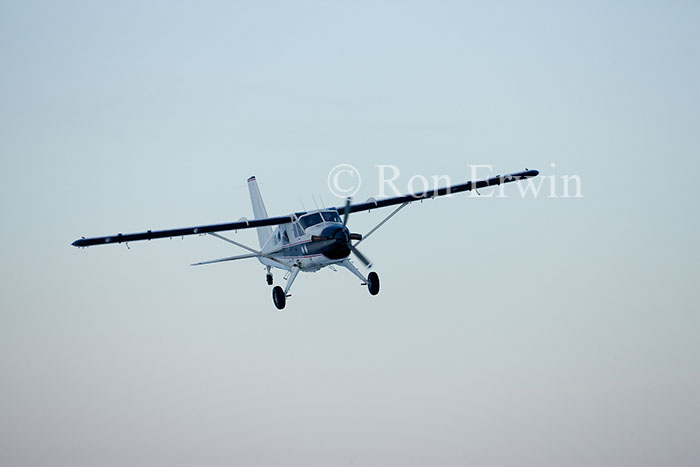 After putting on my ski pants and getting my tripod, we venture outside the compound beyond any safety of the fence for the first of many hikes.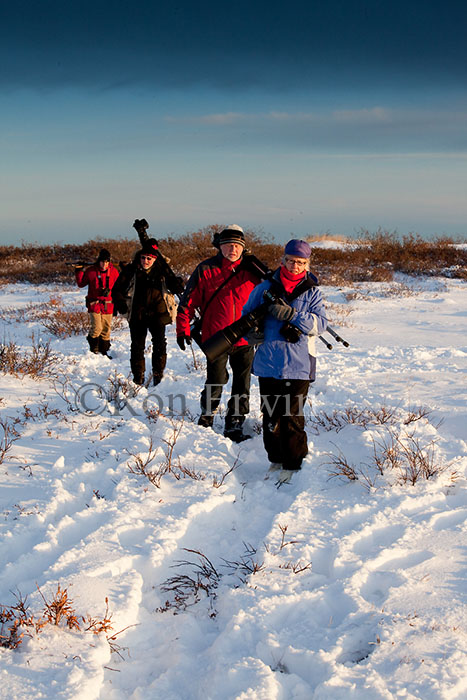 We have our constant companions with us - the guides Andy and Terry. They both carry shotguns, pepper spray, bear bangers and even a rock or two.
Guides - click each image for larger
There is a bear out on the ice sleeping, another one to the right on land.
One of the guides sees a large bear raise its head from the willows. We are surrounded. It's an eerie feeling! The bears can appear and disappear at will. The land is so flat, and they are so big. How can they disappear like that? Scary!
In the afternoon, we went back out for another hike. We hike for a while and get a few images but not much is happening so we start heading back to the lodge. As we approach, we spot a bear. The light is sweet but the bear is in shadow. We all line up hoping it will move out of the shadows. And suddenly there it was, in perfect light and coming toward us.
I'm smiling all over as I press the shutter. The bear wanders off toward the ice. But then he turns and I get
my
shot. It's THE SHOT I have dreamed about. Great light, great scene. You couldn't beat the smile off my face with a stick.
We get a few more images as the bear starts to walk back toward us.
He gets closer and closer, too close to photograph with a 500mm lens. Just when I start to feel
really
uncomfortable, the guides start to talk to the bear. Then they yell, throw snowballs, and finally launch a bear banger. The bear moves away. I'm grateful the guides are there. I'm also glad that the bear is not harmed. I want photos but not at the expense of the bear.
After that we go back to the compound and finish up the day
inside
the enclosure.
Back inside the lodge after a great day of photos, I feel like I can relax a bit now. Any images I get after this will be gravy.
The next day brings more bears. I just love this place. I'm with a great group of people and everyone seems to hit it off. Hard to be unhappy when you're a photographer in a place like this!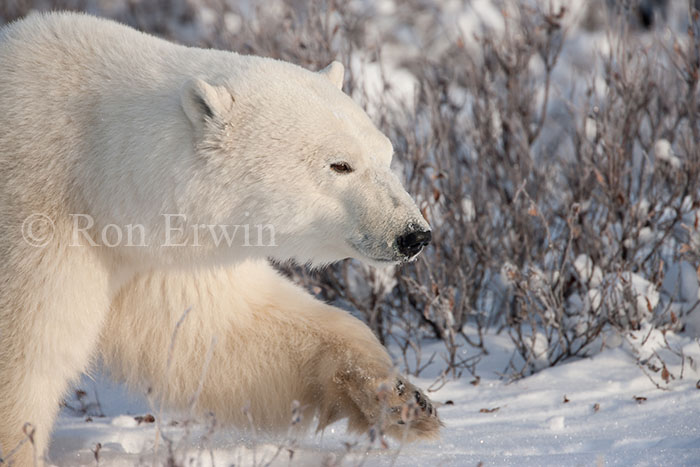 We are shooting from a platform when a Gyrfalcon flies over. I react as quickly as possible and get one shot that's sharp. It's the first time I have ever seen this bird species.
As the light starts to get that late afternoon sweetness, I want to walk outside the compound. The landscape is so beautiful here. The ice and boulders, the Sea Lyme Grass and bear prints are so beautiful. We get the guides to take us out for a hike and photograph some bears lying about. We walk right to the shore of Hudson Bay. The group is just interested in bears. But I can't take it anymore; I have to shoot the landscape. So I stay back from the crowd.
Thankfully Terry stays back with me and watches my back for approaching bears.
I see images everywhere.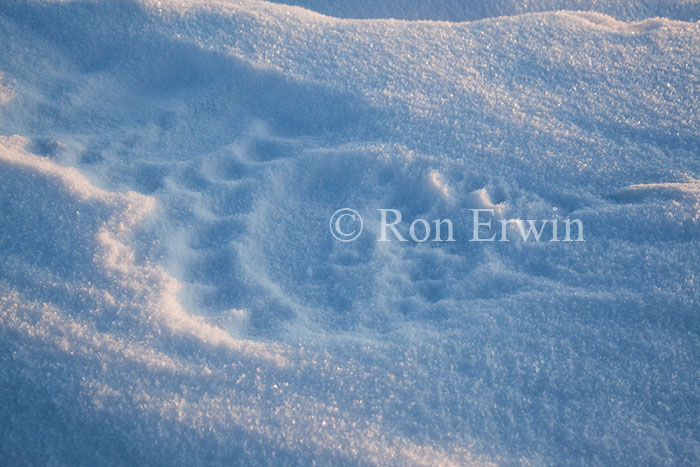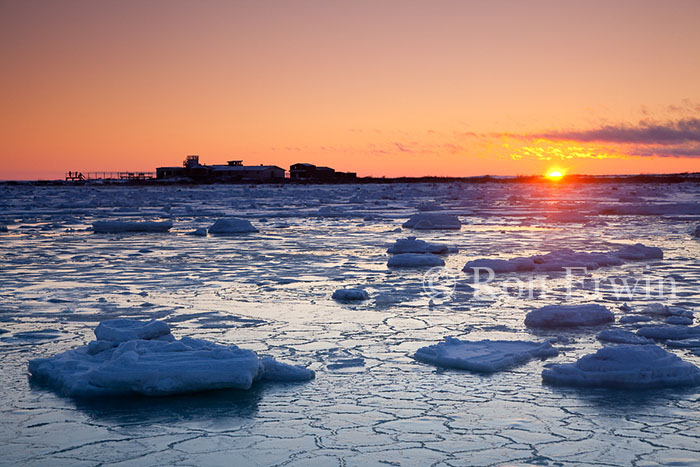 After sunset, we have to walk in near darkness past several bears to get back to the lodge. We stay close to the guides.
Inside the lodge we start our backups. Another great day! We have a glass of wine and chat about our images. After we have had a couple of glasses of wine and some nibbles, a young woman comes into the main lounge and announces that dinner is ready.
She says, "By the way, as you pass the window in the hallway please be careful, there is a bear up at the window with his head and paws hanging through."
Thankfully, there are bars on the window.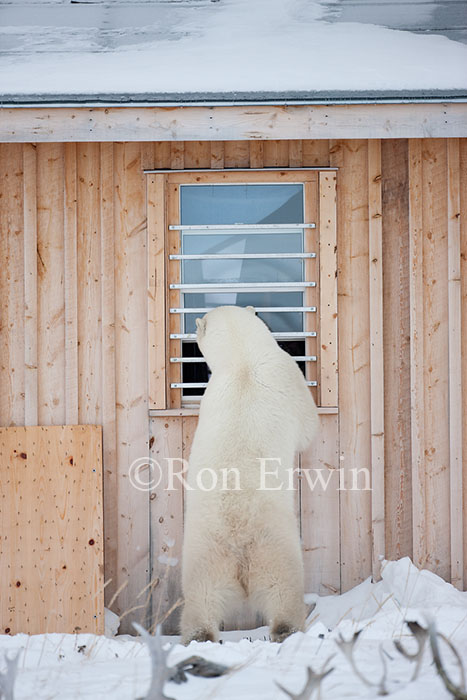 After another wonderful meal, we head back to the lounge. Dennis Fast gives a wonderful presentation and slide show of his Polar Bear images. Dennis is a good speaker. He must be as tired as we are. But still after many years of doing this, he is just as happy to be here as we are. He has so many images that are so beautiful. If you get a chance, check out his book,
Wapusk: White Bear of the North
I'm off to bed. More to come...
Labels: adventure, airplanes, Arctic, gyrfalcon, landscapes, Manitoba, photography, polar bears, Seal River