Friendly Manitoba!
The trip is going nicely. We finally made our way out of Ontario. It's such a big Province; it takes days to get to the northern border. As we approached Kenora, we drove through some flooded areas on the road and stopped in to take some photographs in Rushing River Provincial Park.
Rushing River Provincial Park - Click for larger
It rained so hard the night before we were happy to be in a motel.
We travelled to our friends Frieda and Dennis Fast's place in Kleefeld Manitoba. Both are wonderful photographers. I had the pleasure of sharing a trip to the Seal River in northern Manitoba with the Fasts last November. (
See previous posts
) We arrived mid-afternoon and had a great visit talking non-stop through dinner. They took us for a drive through the Tall Grass Prairie Preserve and we photographed Western Prairie Fringed Orchids. It is the only place in Canada this endangered flower exists.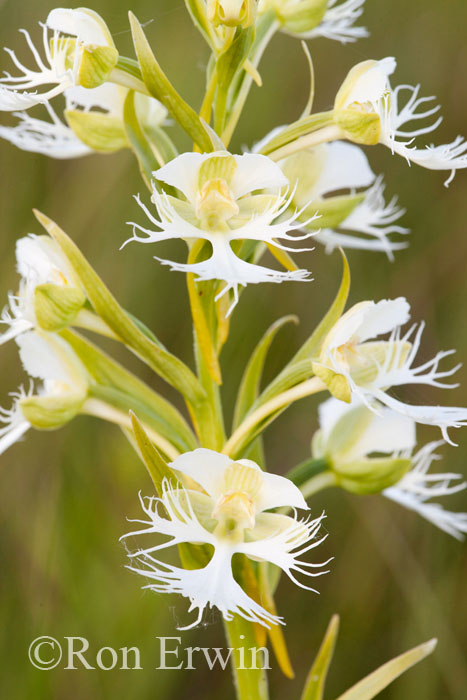 Western Prairie Fringed-Orchid - Click for larger
The next morning we got up early and worked the Tall Grass Prairie while Dennis and Frieda ran some errands. We dropped in to see Christie and Laura who work in the preserve, had a good chat and then headed back to have brunch with the Fasts. It was another good meal with endless conversation. They are such great hosts!
Our next major stop was the Chaplin/Morse area of Saskatchewan. This area off Hwy 1 is packed with birds and wildlife. We camped at Morse. This is not a quiet place to camp. It's clean and well looked after but it's right on the train tracks and the freight trains come through all night long with horns-a-blasting. Makes for interesting dreams though. I love working this area. There are not many people and you can work right from the car with little interruption from other vehicles. We see thousands of Avocets and some still are nesting.
Avocet on Nest - Click for larger
From Morse, we headed to The Great Sandhills of Saskatchewan. Unfortunately it was raining so hard and the roads were so wet, we didn't get in to see them. We wanted to photograph this area again and we wanted to see the signs they put up using some of our images. If you have ever driven in Saskatchewan "Gumbo" you will understand why we didn't risk the roads! Maybe we can drop in on the way back. On the way south from Leader, we stopped at this old one room schoolhouse - The St. John's School Historical Site.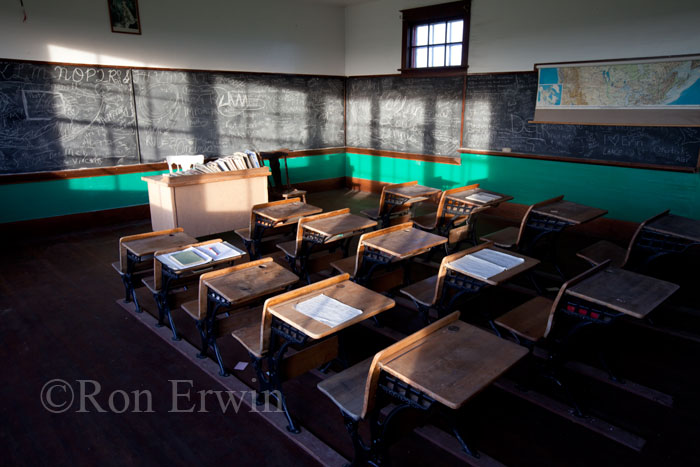 St. John's School Provincial Heritage Site - Click for larger
We continued on to Dinosaur Provincial Park in Alberta. It's hot and buggy. Lots of mosquitoes! After getting a campsite we scout for the evening shoot. We do a hike after diner. It really is an interesting landscape but the bugs!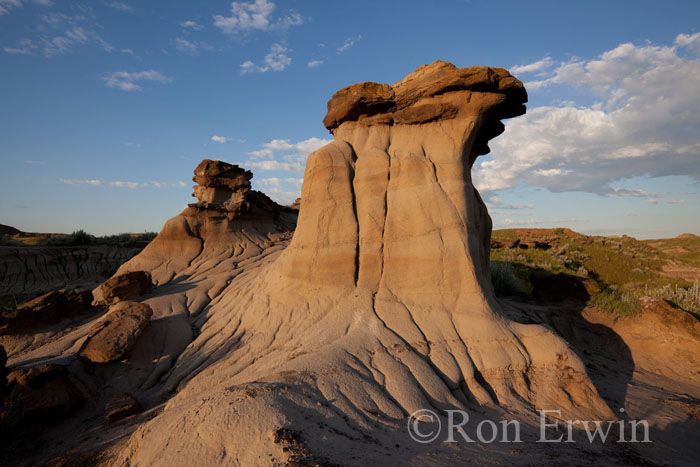 Hoodoos - Click for larger
We have decided to move on tomorrow. Too many bugs and too many screeching kids! We will head to Calgary to replace my ailing 24-105mm lens and then head to the Rockies.
Labels: Dinosaur Provincial Park, Manitoba, Morse, orchids, Rushing River Provincial Park, saskatchewan, Tall Grass Prairie Preserve, travel