It's a Big Small World!
Finally we had everything packed into the van and headed out the driveway around 2 p.m.
The Loaded Van
We drove north on Hwy 400/69 stopping at Nobel where Lori took over driving. A little north of Pointe Aux Baril traffic stopped. A woman parked at the side of the road said there was a bad accident and the road would be closed for another 6 hours. If we wanted to continue, we would have to go back to Parry Sound, go east to Sundridge, north to North Bay and then head west on Hwy 17. At that point, I thought it best to just camp for the night and try again in the morning. We drove back south to Killbear and got a campsite at the edge of the beach. Very nice. We had a bite to eat and then I wandered over to the rocks to take a few snaps. I was shooting a landscape when a man and woman with a little girl came by. The woman and the girl sat right in the middle of my scene so I asked them if they minded if I take their photo. She looked unsure and asked her husband if it was ok. He said, "Sure", and Lori asked them to sign a release. I shot quickly as the light was changing. My 24-105mm lens is acting up. It gives an error. Seems the contacts between the lens and camera have a problem. In spite of all that, I think I got a good shot.
Killbear Provincial Park - Click for larger
When I handed the man my release he looked at it and said, "Scarborough eh? Do you know Marc Crabtree?"
"Yes I do!" It's a small world. After chatting with them for a while Lori and I headed back to camp. We played a little cribbage and then went to bed. Sleeping in the van worked really well. There is lots of room and it is surprisingly comfortable. We just need to make sure it's level next time!
The next 2 days we spent on Manitoulin Island. We had a nice visit with Lori's Mom.
Canola Field on Manitoulin - Click for larger
The Farm
On Thursday we drove to Pukaskawa National Park. After setting up camp we lazed on the beach. What a great way to spend Canada Day. I love this place. It's so rugged and beautiful. After dinner at our campsite we walked back out to North Beach. It had clouded over but I shot anyway. It was very dramatic.
Pukaskwa National Park - Click for larger
Pukaskwa National Park - Click for larger
The back of the van makes a good platform for doing backups!
Doing Backups
The next day we moved on to Sleeping Giant Provincial Park near Thunder Bay. Our campsite was so tiny there was barely space to squeeze the van in beside the picnic table. Good thing we didn't need to pitch a tent! After dinner we shot the cliffs at the edge of Lake Superior.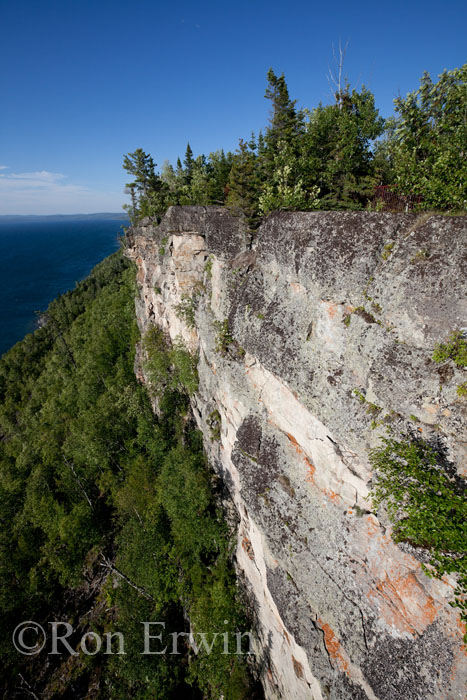 Cliffs in Sleeping Giant - Click for larger
From Sleeping Giant, we headed to Lake of the Woods. It was stormy so we got a motel with WiFi. Nice to be inside when it's stormy outside!
Tomorrow we will head further west. Our next major stop will be the Tall Grass Prairie Preserve in southern Manitoba.
Labels: camping, Georgian Bay, Killbear Provincial Park, Pine Trees, travel