Stormy Weather
I'm sitting in a Motel in Jasper watching the rain turn to snow. A group of 10 guys on Harley Davidsons from Wyoming are waiting out the weather. They are in good spirits in spite of the snowstorm they drove through to get here. They reminded Lori of the movie "
Wild Hogs
" but I think these guys are the real deal, not wannabe bikers like John Travolta. I chatted with one of them at breakfast. He said the trip up the Icefields Parkway was miserable. I found it hard in a van. I can't imagine what it would be like on a Harley. Blowing snow, sleet and rain mixed with gusts of cold wind.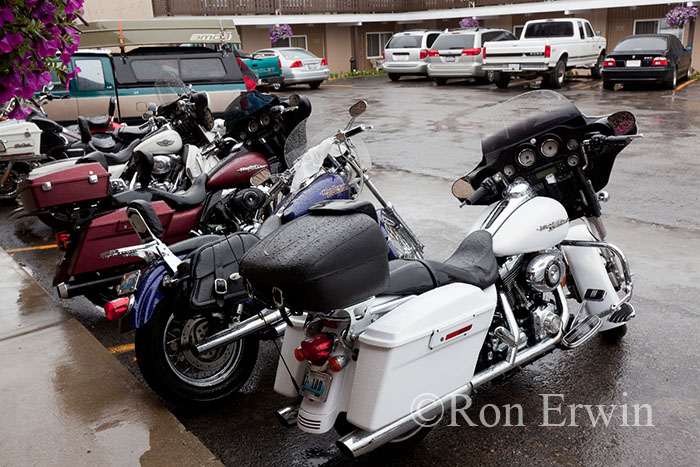 Motorcycles - Click for larger
We felt a bit overcharged for the room. The restaurant's food was well below average. Can't win them all I guess. We stopped at a place with cabins before we stopped here. They wanted $190 for the night. I'm a photographer, not an Oil Barron. We continued on to this place that shall rename nameless. It was a bit cheaper but not cheap. Some day I think I will write a book about all the bad places we have stayed. I will probably need a lawyer though so on second thought, maybe I will just keep a list of places I will never ever stay at again. It's not a very long list thankfully but we have stayed in some winners. (
See Lori's previous post that mentions the dead lizard.
)
We drove through some of the most spectacular scenery on the planet on what must be one of the top 5 drives in the world. We couldn't see a thing. It has been moody, glum at times and ever so often spectacular light. We are still enjoying it. It's not always easy. The other day, I was trying to make something of the pitiful light I had. I stopped at the side of Waterfowl Lake in Banff National Park. Just as I set up, it started to rain. Lori came out with an umbrella to help keep my equipment dry. I dragged my camera bag over to get it under cover. It was open and my brand new 24-105 mm lens (the one I had just replaced because my old one just gave up the ghost) the brand new, never been used still squeaky clean right out of the $1400.00 box rolled out of the bag and was rolling toward the lake. It stopped about 2 inches from complete disaster. It gently rolled up to a rock and sat there. I dusted it off, put it on the camera and got back to work. As my friend Hal once said to me when his camera toppled over, "hey, if it can't take it, what good is it?"
Sh-t happens.
Banff National Park - Click for larger
If you do this long enough, you will drop stuff. You will fall and scrape your knee, twist an ankle. It has taken me a long time to learn how to do this, the travelling photography/massive road trip thing. The nagging self-doubt and the inner noise in my head that is all things good and bad never stops. You learn to listen to your real voice, the creative one that never ever rests.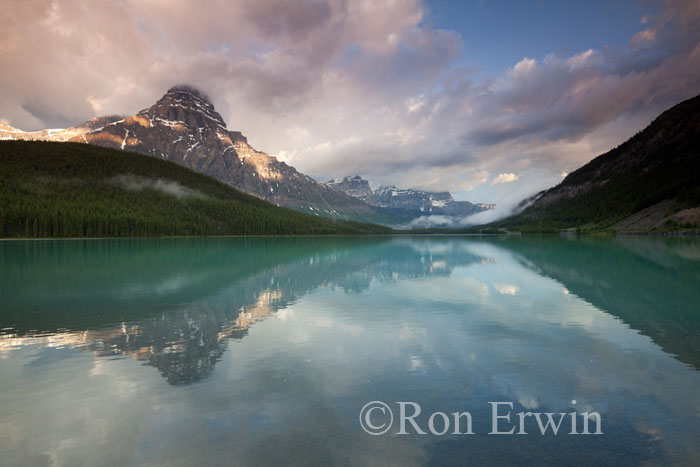 Mount Chephren, Banff - Click for larger
Life is good!
Labels: Alberta, Banff National Park, Mount Chephren, travel