Can I take your picture?
Photographing people doesn't come naturally to me. I'm not sure why, but I've really had to work hard to create portraits that work for me. Landscapes seem to jump out at me and I'm compelled to capture them. I see the potential for an image much easier out in the great outdoors. Animals don't seem to be as much of a problem for me either. I just sit quietly with a big lens and wait for them to come to me. It just feels different with people. Maybe I'm just shy or simply I don't want to bother someone by pushing a camera in his or her face.
Over the years I have forced myself to photograph friends, family and strangers. By sheer repetition, I have learned to relax and have a little more fun with it.
My neighbour Bob asked me to take his photo as a promotional piece. He was a jazz musician and had a gig coming up. He needed a head shot for the concert hall website. I was reluctant and said "it's not really what I do". But as usual Bob convinced me that we would have some fun and that it wouldn't be a problem if we didn't get something usable.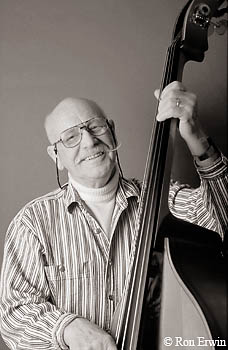 We got this shot (right) in his living room. I set up a paper seamless backdrop and shot with one umbrella and bounced the other flash head off the ceiling for fill. I was using a 400
W/S Lumidyne
flash system - a wonderful little battery powered unit that still serves me well for most portraits. We both really liked this shot. Bob died a few years back, and I cherish this image. It's a wonderful reminder of our friendship and the connection we had.
I still have so much to learn about lighting and photography. More importantly, photographing people takes a great deal of knowledge about human behaviour. How do you make them relax, how do you capture their essence, their personality? You need to listen and look. Most of all you need to make them comfortable and let them know you want to show them in a good light. This isn't always an easy thing to do.
While in
China
few years ago I was wandering around the City of
Nanjing
one morning and came across a man cooking in the street. He had a steady stream of customers stopping to buy something to eat on their way to work. I stopped and smiled at him. He smiled back. I pointed at the camera and then at him. Our only language was smiling and gesturing to each other. I started to take several photos. I have several images where he is not paying much attention to the camera, but I like this one where he stopped and posed for me. It was our connection.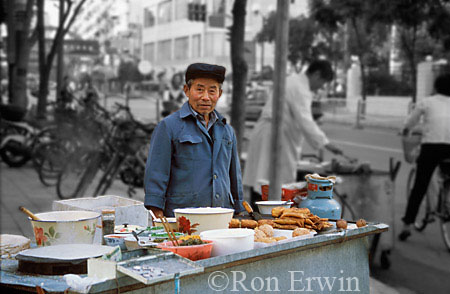 We recently went to a family dinner at my wife's sister's place. It was a nice evening with good food and conversation. One of the guests that night was a 94-year-old woman. She was full of life and spark. She has travelled the world and experienced life first hand. I asked if I could photograph her. She said sure, maybe after dinner. I looked around and picked a place that would allow me to set up without disturbing the rest of the guests. I found the power outlet and made a mental note of where everything would go. We all were having such a good time at the dinner table, we lost track of the time. The woman looked at her watch and said she had better go. My wife, Lori mentioned the photos, and she agreed to stay another 15 minutes or so. I still had to set up my lights and get ready. I rushed to set up. As she was sitting down, she reached up to adjust her hat. I saw it coming. I had just set the camera on manual and had guessed what the exposure should be based on my lighting set up. I wanted to do a few test shots first but when I saw what she was about to do, I shot anyway. I'm glad I did.
Anticipation and knowing your equipment - yes these things are important but the most important thing is to act on your instincts and ask the question, "Can I take your picture?".
Labels: aging well, characters, elderly, people, portrait photography, portraits