Christmas in Quebec
This year we wanted to do something different for Christmas. But going south was not in our budget. We thought the charming and historic old city of Quebec would be wonderful to see at Christmas time. I didn't want to drive all that way in winter since we just park the car and walk everywhere anyway. So we took the train.
Lori and I have stayed in Quebec City a couple of times before in summer. The first time was in 1987. We had traveled to France the year before and wanted to experience the feel of a European city again without the need for passports. In the summer of 2007 we visited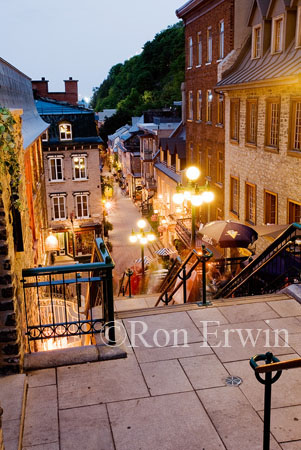 Quebec City again on our way to Labrador. It really is a wonderful city!
(Above: Festive lights over the Rue du Petit-Champlain, in historic old Quebec City)
This was our first time to visit in winter. Although the train ride made for a very long day, we did not have to worry about icy roads or winter storms getting in our way. We left Toronto round 10 a.m. and got into Quebec around 8 p.m. We stayed at the Hotel Clarendon. Built in 1870, this old hotel is about a block from the Château Frontenac (below) and in the heart of old Quebec.
It was indeed winter. The temperature was hovering around -16 C. The window in our room with its view of City Hall (below) was also very drafty -- so much so we used it as a fridge to store some snacks.
We ventured out for a late dinner and had a wonderful evening walking around the old city. Quebec is great anytime but I really love this place at night. (Below: View of the Chateau Frontenac above the Rue du Cul-de Sac)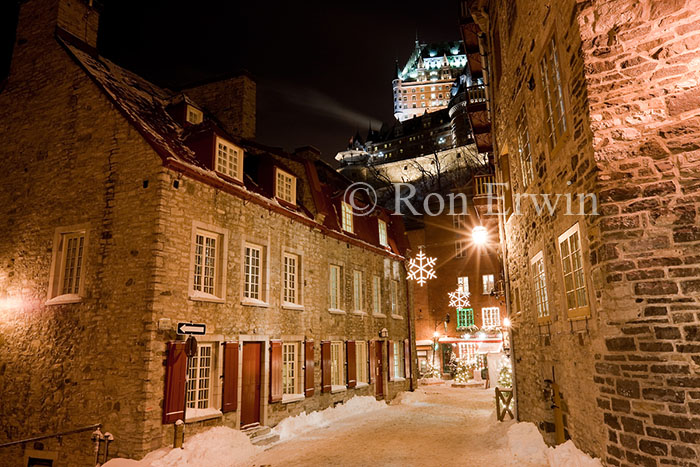 We didn't venture too far although we did do a lot of walking and stair climbing (below Rue du Petit-Champlain).
It was busy and with lots of people out enjoying the city.
There is a toboggan run in front of the Château Frontenac (above). We watched families run to the top and slide down at breakneck speed.
I went to Quebec with an image in mind - somehow I wanted to capture the spirit of this 400 year old city in the winter. The shot below was taken the day before Christmas at the Plains of Abraham. I think it will be our Christmas card for next year. What do you think?
I hope to return to Quebec many more times and in other seasons. The people there are welcoming, the food is out of this world and there are images everywhere – making old Quebec my favourite Canadian city.
Labels: Christmas, Quebec City, winter