Planning
It's my favourite part of travelling - looking at maps searching for interesting places to go. I get a calendar out and plot our course and think about where we want to be and when. We start to buy things like a cargo container for the roof of the van and camping stuff. We need a new dining tent and I would like to get some new camera accessories. Nothing major, just some
little
things. Oh, and I need new hiking boots and maybe another pair of shorts. I have recently replaced my worn out Tilley hat. It was guaranteed for life so the store replaced it for free.
The Worn Out 20-year old hat - Click for larger
We talk endlessly about our trip. I enjoy the planning as much as the trip. It's kind of like buying a lottery ticket and then planning on how you will spend it except we really get to do this!
I make lists. Lists, it turns out are very important. Without them you forget stuff, you get to remote places and look for something as mundane as black pepper for your morning eggs and can't find it. We usually do a short trip in the spring. It helps us refine our loading technique for the van and get a sense of what we need and what needs replacing. Lori is the van arranger/rearranger. She just has a way of sorting things out so they are accessible. When you travel as much as we do, things wear out much faster. Most people use a tent for 3 – 4 weeks tops per year. We might use ours 10 – 12 weeks per year.
The Tent - Click for larger
The Dining Tent - Click for larger
We will need guide books on birds, plants, and flowers, with us along with maps and travel brochures, and notebooks and pens for our journals.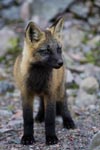 We also need to look after things at the house. We have great neighbours and family members who look after our mail and check on the place regularly. As far as worrying about valuables in the house, well, they are all with us in the van. Cameras, lenses, computers, they all get loaded up and make the trip with us. We turn off the water, empty and turn off the fridge.
I have 2 Mac Book Pro laptops, 3 TB of storage, cables, power cords, battery chargers, cleaning supplies, tripods and filters. All have a place, all will be used. It takes three backpacks for camera equipment.
Bear spray. Still need to get some bear spray...
Bear Warning Sign - Click for larger
Labels: bears, camping, foxes, mockingbirds, orchids, packing, planning, tents, Tilley, travel, travelling